Lamont pupils eight-year-old Evie Clark from Southport and seven-year-old Lori-Jo Quinney
From Bootle starred in the RSC and CBeebies' production of A Midsummer Night's Dream.
The production, which was filmed at Liverpool's Everyman Theatre was aired on William Shakespeare's birthday, as part of BBC's month-long Shakespeare Festival celebrating of one of the greatest writers of all time.
Said Evie: "I absolutely loved filing A Midsummer Night's Dream. The make-up and costumes were amazing and I loved playing two parts. I was a page as well as Peaseblossom which meant I got to wear two costumes instead of one!"
Lori Jo, agreed: "I liked being in the theatre because all the fairies made it feel really magical. Being on TV means I can keep it forever."
Children's favourites Justin Fletcher and Ben Faulks (Mr Tumble and Mr Bloom) starred alongside CBeebies presenters Andy Day, Rebecca Keatley, Pui Fan Lee and Chris Jarvis. William Shakespeare was played by CBeebies' Robert The Robot, Steven Kynman and Justin Fletcher played Bottom.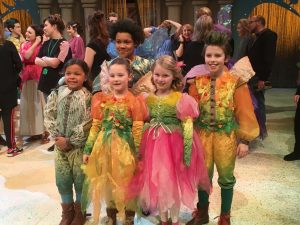 The week long experience of rehearsals, dress rehearsals and filming came after Evie auditioned for the role several weeks earlier.
She explains: "I was very excited when I went for my audition. I was auditioning to be one of the fairies so the night before I read the story and learnt about the characters.
"My audition was with two casting directors from the BBC, called Angela and Lucy.  They were really nice. When it was my turn I went into the audition room and they asked me, "do you know the story?"  I retold them the story from start to finish, and they said, "Wow, you knew that really well.
"I had to choose to be one of the fairies and then I got to say some lines and mime a part of the story. Then they filmed me performing a few times. At the end of the audition they asked me if I had any questions to ask them and I did! I asked them "If they could pick one of the fairies which one would they choose and what would they wear. They were excited to tell me their favourites. They were really friendly and I really enjoyed the audition. I found out the following week that I had got a part.  I was SUPER HAPPY because this is the first part I've ever got!
"Filming with everyone was even more fun than the audition. I just didn't want the week to end!"