Multi-talented Chans
Congratulations to 11-year-old Isabel Chan who was awarded her school's Performing Arts Award.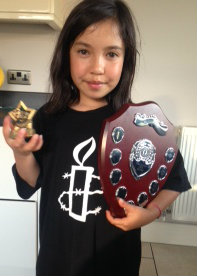 Talented Isabel, who has just sat her Grade 4 LAMDA exam, is following in the footsteps of equally talented family members Alice, Lydia and Conrad. All of Isabel's siblings excelled in their LAMDA examinations and have gone on to greater things since leaving Lamont Drama School.
Alice is in her 4th year of a European Law degree at Queen Mary University London.  She has just come back from her Erasmus year in Copenhagen and is now undertaking a Summer Fast Track Internship with the Home Office.   Lydia studied Maths, Chemistry and Biology at A level and is now studying dentistry. Sixteen-year-old Conrad has just finished GCSEs and is spending time in Hong Kong teaching English to children.
A truly talented family. Best wishes to you all.