Lovely Laurie is leading light of Nationwide Ad Campaign
Our lovely Laurie Ogden continues to go from strength to strength in both her acting and poetry career!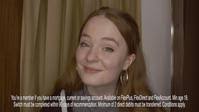 Laurie, who attended Lamont Drama School until she went to university,  is back on our screen in the Nationwide ad sharing her brilliant poem '3am Friends' . Laurie and Toby Campion demonstrate that it's the little things you share that make a friendship. She also performs another poem 'Mother's Day' as part of the Nationwide ad campaign.
When she's not charming us on the small screen, Laurie is busy in the theatre. She has just finished with the NYT REP company (2018) group and is currently in a UK tour in a play called 'Napoli, Brooklyn'.
Laurie is starring in Meghan Kennedy's enthralling coming-of-age tale alongside Georgia May Foote (Coronation Street, Grange Hill), Robert Cavanah (Shetland, Outlander and The Royal), Hannah Bristow(Jane Eyre, National Theatre), Mona Goodwin (Black Mirror), Stephen Hogan (The Tudors, Primeval),  Gloria Onitiri (Brighton Rock, Hadestown) and Madeleine Worrall (Peter Pan, Jane Eyre National Theatre). The tour will finish at the Park Theatre in London.
She says: "After that I'm heading to Edinburgh with a play called 'Bible John' which I'm equally excited about. I'm also hoping to get more poetry projects done now that my run with the NYT REP is finished".
Says Mrs Lamont: "Laurie's writing and performing talents were evident from a very young age. She simply lights up the stage or screen with her presence. I am delighted that she continues to perform in such diverse and interesting projects."