Eight-year-old Isla's success story continues as she tours the country as the first-ever UK Cindy Lou Who in Dr. Seuss' How The Grinch Stole Christmas! The Musical.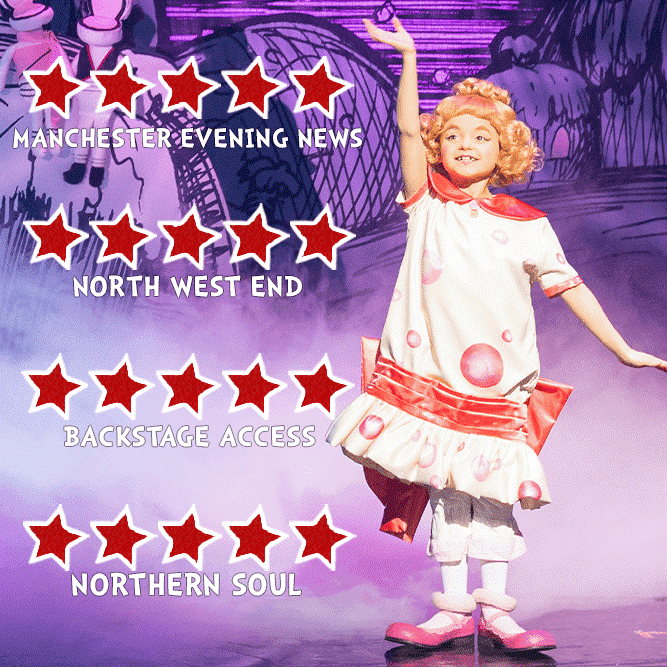 Isla has completed her run in London and Edinburgh and is now in Birmingham performing to standing ovations.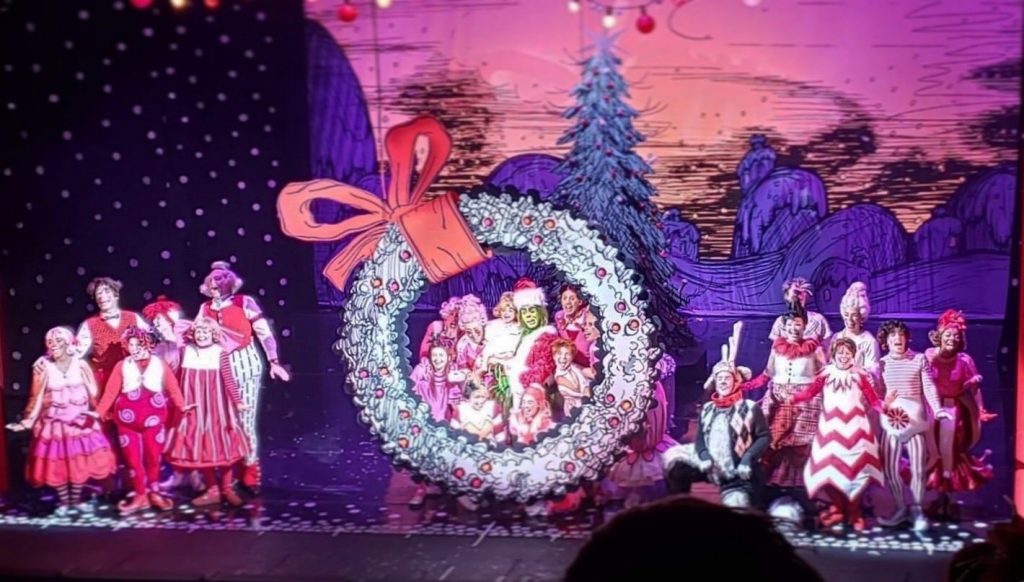 The incredible cast led by the amazing Edward Baker-Duly as The Grinch, the show and Isla's role in it have been a huge hit with audiences and the theatre critics who are saying :-
"Equally impressive – some might say more so because of her age – is one of four rotating Cindy Lous (Isla Gie) whose pint-sized demeanour and powerhouse of a performance is straight out of the Shirley Temple school of acting. A pivotal role which she nails with aplomb" (Review Sphere).
"Now let it be said, quite often child-performers are something to dread. Then one comes along with exceptional ability. Young rising start Isla Gie captures the pathos of the narrative and holds her vocals splendidly" (The Reviews Hub).
"The challenging role of Cindy Lou pulled off by Isla Gie with aplomb" (Edinburgh Guide).
"Isla Gie, the 8-year-old who played little Cindy Lou was absolutely amazing!" (Edinburgh Tourist).
"Performance wise the star of the show must go to young Isla Gie in the role of Cindy Lou Who for a girl so young to have such a big voice, stage presence and performance ability is stunning and she is joy to watch on stage" (Scots Arts).
"Special mention should be made of Isla Gie. The Grinch in me hates to use the word 'adorable,' but after some consideration, I really can't think of a more appropriate one, and Gie comes dangerously close to walking off with the entire show" (Bouquets and Brickbats).
"However, for me, star performer of the night was Isla Gie as Cindy Lou Who. Having taken roles in Les Miserables and this production, and carrying them off with the maturity and talent she did this evening – bearing in mind she isn't even ten years old yet – is simply mind blowing. Mark my words; Gie will be a huge star in years to come because her performance this evening was simply world class" (Black Country Radio).
"Gie lit up the auditorium with her natural stage presence and beautiful charm. She didn't just melt the Grinch's heart but she melted the hearts of the Birmingham audience with one of the biggest cheers of the night for her performance of Santa for a Day" (Theatretastic).
"The scene stealing star performer is the amazing Isla Gie as Cyndy Lou, a little whirlwind who steals the heart of the audience in her interactions with The Grinch. She is as cutesy and sugar sweet as the role requires and just nails it"(Fashion Mommy's Blog).
"There are four young girls playing Cindy Lou Who – on press night we witnessed the amazing talents of Isla Gie – not just a star in the making but one that has arrived. At just nine years old she has already toured the UK in Les Miserables and now this, where the entire audience took her heartstring tugging performance into their hearts" (Bromsgrove Standard).
"The runaway star of the night, however, was little Isla Gie in the role of adorable Cindy Lou Who. Without missing a beat, her level of exceptional performance skill and maturity far exceeded her years and she absolutely owned the stage throughout, deservedly receiving the biggest reception of the night from the audience" (Suzie Speaks.com)
"My favourite Who character was the adorable Cindy Lou Who, played by the extremely talented young Isla Gie, I wouldn't be surprised if we don't hear her name a lot in the future. She is an incredible talent for someone so young and she really stole the show when she sang, especially the song she sang with the Grinch in her house. For a young child to remember all those lines, choreography and perform in such a way that the audience believes that she is Cindy Lou Who, then you know what an incredible talent she is" (Whatsgoodtodo.com).
"The Grinch has some great lines and asides, my favourite comes as Cincy Lou Who, the tiny tot who finds him pretending to be Santa, melts his icy heart just a fraction, holds his hand and starts to sing Santa For A Day leaving the Grinch desperately fighting off sentimentality and despairing "Oh no, it's a ballad". A real musical theatre joke.  Cindy Lou, incidentally, is played by one of four youngsters with eight-year-old Isla Gie in the role on Press night, and quite brilliant she was too. A voice clear as a bell, hitting every note with ease and showing all the pathos and emotion the role demands. A young lady and a name to look out for" (Behind the Arras.com).
"The amazing cast really managed to bring children's book characters to life for this show but for as wonderful as the Grinch was, it was last night's Cindy Lou (Isla Gie) who was the absolute star of the evening. What an unforgettable performance from one so young! I'm pretty sure that one day I will point to her and say "I saw her acting as a child, she was magnificent". The character of Cindy Lou is played by a different child each night, last night Isla reduced me to tears when she was singing to the Grinch, and I wasn't alone, the man in front of me was crying too" (Brumhour).
WELL DONE ISLA and GOOD LUCK for your 4-week run at the LOWRY, SALFORD QUAYS, MANCHESTER!
Isla will appear at the Lowry's PRESS GALA NIGHT on December 12th. Exciting!!!!!! Keep enjoying your Cindy Lou Who adventure, Isla! Booyah!