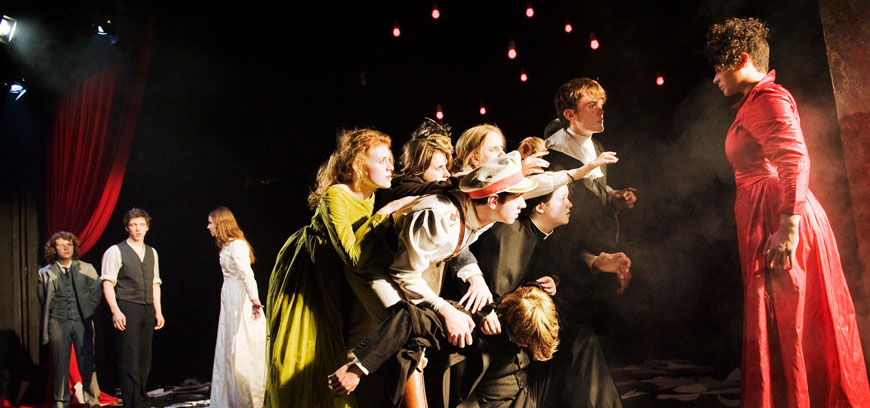 Congratulations to senior Lamont Drama pupils Christie Clark and Steven Daley who have both been invited to join the prestigious National Youth Theatre.
The two are following in the footsteps of some great names from the world of theatre, TV and film. Former NYT members include Dame Helen Mirren, Daniel Craig, Colin Firth, David Walliams and Orlando Bloom.
Christie and Steven went through a gruelling audition process before securing their places and had to perform individually as well as taking part in a drama workshop. Nearly 5,000 youngsters were cut down to just over 500.
Christie and Steven, said" We are absolutely delighted to become NYT members and are looking forward to performing and making new friends."
More than 90 children and teenagers took part in the inaugural Sefton Festival of Performing Arts held at Greenbank High school in Southport.
Lamont Drama pupils, alongside pupils from So Talented Academy of Music and Performing Arts and Starstruck Theatre School entered pupils in the one-day event which saw three adjudicators judging their performances in verse speaking, prose reading, solo acting and duologue and group acting. Competitors came from Crosby, Formby and Southport.
Adjudicator Anita Gilbert, said: "This is the first time that I have adjudicated in this part of the country and I was bowled over by the amount of talent here. Even the tiniest competitors, aged four and five, performed with great skill and confidence."
Judge Stephen Owen , agreed, "The standard at Sefton Festival was extremely high. It made my job very hard because so many of the competitors gave award-winning performances."
Trophies and medals, awarded to winners of individual classes,were presented to :- Josh Reais, Daniel Dunne, Rebecca Dorrity, Kathryn McEvilly, Dominic McEvilly, Elizabeth McEvilly, Caterina Cardeira, Gabriel Cardeira, Evie Clark, Ahmed Hassan, Amelia Rosin, Lily Field, Supraja Pulya, Leah-Marie Thompson, Loulou McElhinney, Francesca Medlicott, Rory Rushton, Amy Jackson.
Festival organisers, said: "We are absolutely delighted that the Sefton Festival proved so enjoyable. Holding the festival on a Sunday meant the children did not have to miss school and we also saw a lot of dads being able to come along to watch their children perform.
"Sadly the festival movement around the country is dying off and Sefton is no different with both Blackpool and Crosby Festival coming to an end. The children gain so much from festivals and we will build on this year's success to ensure it becomes a widely supported annual cultural event.We would like to thank Greenbank High School for giving the children the opportunity to perform on their superb stage and Southport Festival for their encouragement and donations of many of our winner's trophies."
In addition, the following pupils were awarded special trophies for the finest performances of the festival :-
Trophy for highest mark – shared by Ahmed Hassan, Rebecca Dorrity and Rory Rushton
Sefton Festival Senior Challenge Trophy (for verse, prose reading and solo act) – Rebecca Dorrity
Sefton Festival Junior Challenge Trophy (for verse, prose reading and solo act) – Lily Field