Peachy role for Oliver
Oliver Bigley landed a peach of a role in Merchant Taylors School's latest production.
Oliver, who has been a pupil at Lamont Drama since he was 5, was selected to play Aunt Sponge in 'James and the Giant Peach'.
Renowned for producing very high calibre productions, Oliver had to beat off stiff opposition for the plum role!
He said: "I think my experience of entering drama festivals with Lamont really helped me at the auditions. I'm used to performing verse and prose pieces as well as solo acting and duologues so I felt confident about reading the script at the auditions. I was absolutely euphoric when I heard I'd been cast as Aunt Sponge. I've loved every bit of the production – from the numerous rehearsals, to the dress rehearsal and finally the show itself. I had a ball!"
Said Mrs. Lamont, "Oliver and his younger brother Joseph have both enjoyed a great deal of success at drama festivals around the North-west and in their LAMDA examinations. They work hard and are both talented performers. Oliver is able to tackle comedy, like Aunt Sponge, with great timing and intelligence, but he is equally good at performing more serious pieces and has produced some very touching work over the years. It is very rewarding to teach such a receptive pupil."
Oliver added, "Working on new and different pieces is what I like best and I've been lucky to be given a big variety of roles at Lamont. Aunt Sponge was different again, not least because I had to wear a dress!".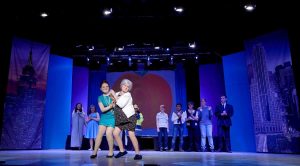 Well done, Oliver!