Lovely Lauren on stage and screen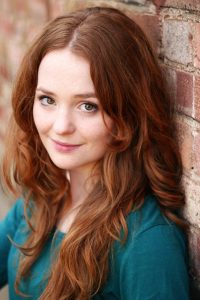 Former Lamont pupil Lauren Ogden has been picking up rave reviews for her acting – even before finishing her degree.
Our lovely Lauren – now known in Spotlight as Laurie Ogden – recently starred in How To Survive A Swarm Of Bees at the Lyric Hammersmith. She also appeared in two fringe plays – Staircases by Antonym Theatre and Dust never settles in Torchlight by Naked Feet Physical Theatre.
 Lauren's wonderful acting skills were spotted by a reviewer, who said: "in Staircases, Laurie Ogden should also be praised, not only for her impeccable range of hairstyles but also for her powerful delivery in the doctor and patient vignette. A brilliant idea, expertly executed. All involved should be very proud of what they've produced."
Praise was equally high for Lauren in Dust Never Settles in Torchlight.  "I was blown away, utterly blown away by this show. I feel confident in calling it the best piece of physical theatre I have seen in a very long time. The entire cast ebb and flow around each other in a manner that mesmerises the viewer mere seconds into the performance. The most memorable performance of the piece comes from Laurie Ogden, who you'll remember from the previous review, in the role of Myrrha, who here serves as a living embodiment of how a vast array of relentless, devastating emotion can be conveyed without a single word spoken. Odgen is proof of the power of physical theatre when put into capable, dedicated hands. The choreography in itself is simply marvellous, but it takes the right actor to use that choreography to its fullest effect. Ogden is such an actor.
As well as wowing audiences on stage, Lauren has also done a commercial for Late Rooms.
Fantastic news, Lauren (or should we say Laurie!)